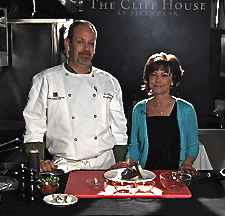 Today on KKTV News 11, Chef Scott Savage and I make black truffle deviled eggs with pickled mustard seeds. These may sound "strange" but they are super delicious and really easy. Chef actually changed up a recipe I created last year after my husband and I ate at Sweet Basil (in Vail) and they had these on their menu. We tried them and when we got home, I experimented until I came up with something we thought was almost as good as those at Sweet Basil. Where I use black truffle oil, Chef actually uses black truffles, truffle powder and truffle salt. Black truffles are part of the fungi family and among the most expensive and prized delicacies on earth (which is why I use truffle oil instead of actual truffles). Chef's version is out of this world delicious! And as always, I had a blast filming with Chef at The Cliff House at Pikes Peak, feeling like I'm getting a private cooking lesson! You can catch us live on KKTV Monday mornings between 9-9:15.
http://www.kktv.com/savagekitchen
My version is a lot less expensive than chef's. When I originally looked for truffle oil (make sure you use black truffle oil for this particular recipe, not white) I couldn't find it at the grocery store but in recent months I've seen it at Safeway and King Soopers. The initial cost of the oil can be expensive but you literally use drops of it so it will easily last a long time and the per use cost isn't high. I've made these eggs over a dozen times now in the past year and everyone always wants the recipe. The pickled mustard seeds are easy to make and really adds to the flavor. I love them  so much, I put them on salads and even my scrambled eggs!
http://www.719woman.com/food/black-truffle-deviled-eggs-with-pickled-mustard-seeds-so-good/