SOUTHWESTERN BLACK BEAN & CORN SALSA
Prep: 15 minutes

Cook: 2 minutes

Makes 3 cups for approx. $3.00
Ingredients:
3/4 teaspoon cumin seed
1 15-oz. can black beans, rinsed
4 ears corn, kernels sliced off
1/2 small red pepper, chopped
1/2 small red onion, chopped
1/4 cup fresh cilantro, chopped
1/4 cup fresh parsley, chopped
2 to 3 tablespoons fresh lime juice
1/8 cup olive oil
1 to 2 fresh garlic cloves, chopped
1/8 teaspoon Kosher salt
1/2 teaspoon red pepper flakes
18 teaspoon black pepper
Directions:
Toast cumin seeds in skillet over medium heat for 1 to 2 minutes, until brown and fragrant, stirring often. (Don't walk away or they will burn.) Combine cumin seeds and the rest of the ingredients. Toss well, cover, and store in fridge for up to 1 week.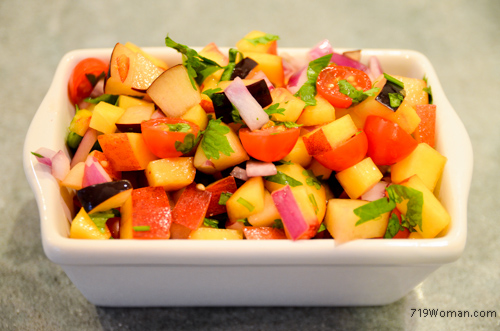 FRUIT SALSA
This is a basic fruit salsa that you can use and doctor up as you like. Sometimes I add the cherry tomatoes, depending on which fruits I use and sometimes I don't. If you don't like cilantro, you can substitute parsley. Want more heat? Add more onion, and by the way, you can use green onions instead. I've made mango and cilantro salsa, watermelon and mint salsa, and a combo of peach, mango and cilantro. They all taste great. Again, taste as you go along and adjust to your own preference.
Ingredients:
2 cups fruit, chopped
3 tablespoons red onion, chopped
2 to 3 tablespoons lime juice
1/4 teaspoon salt
2 to 3 (or more) tablespoons cilantro, chopped
handful or more cherry tomatoes, sliced
Directions:
Combine all ingredients. Taste, adjust seasoning and flavors if needed.
Prep Time: 10 to 15 minutes Serves 4 for approximately $2.00 and up, depending on what fruits you use, if you add tomatoes, and whether you're growing your own herbs/tomatoes
ZUCCHINI & CARROT SLAW
There's a lot of people who have an abundance of zucchini right now (lucky you!) This is a great (and different) way to use it up. If you have to buy it at the store, I priced this based on it being on sale for 99 cents a pound. This is a great side dish for grilled meats, poultry and seafood.
Ingredients:
2 medium zucchini, coarsely shredded and squeezed dry
1/3 cup chopped onion
1 cup coarsely shredded carrots
3 tablespoons mayonnaise*
1 tablespoon apple cider vinegar
1/2 teaspoon sugar
1/4 teaspoon salt
dash pepper
* Sometimes I omit the mayo and add a teaspoon or two of olive oil instead. Depends on what I'm serving it with.
Directions:
Combine all ingredients in a bowl and mix well. Cover and refrigerate for at least an hour before serving.