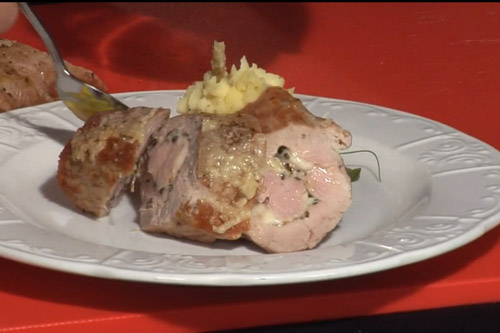 Today on KKTV 11 News, Executive Chef Scott Savage and I cook a pork roulade stuffed with fresh sage and parmesan at The Cliff House at Pikes Peak. It's delicious!
Before I get to the food, I just want to point out that the fabulous black top I'm wearing is from Discover Goodwill that I picked up for $2.99. Buying cute tops for $3.00 is a great way to freshen up and extend your wardrobe when you're on a budget. (I went on a shopping "spree" and found 10 tops, all for $2.99 or less at our local Goodwill which I was pretty darn excited about…about the same amount of money you would spend on just one top.)
Anyway, back to the food! I had previously made a parmesan and crusted pork chop that I served with cheesy polenta and sautéed red Swiss chard .
Chef took the ingredients I used for the chops and changed things up just a bit and used a pork tenderloin instead. Both recipes are fabulous.
If you're interested in trying out either recipe, Safeway has whole boneless pork tenderloin on sale for $2.99 lb. It's a big one but you can cut it up when you get it home and freeze the portions you're not using. This is a great price and cutting it up is easy. Albertson's has all their pork chops on sale right now for "buy 1 get 1 free."
For a dish like this you really do want to use fresh sage. You can buy it fresh at the grocery store for about $3.99 for a handful of sprigs or buy an entire plant at Home Depot or Lowe's for about the same price. Sage is a perennial so if you plant it in your garden, you should have it pop up again next year. Or plant it in a pot and you'll have fresh sage whenever you need. I especially like making sage butter (I just chop up fresh sage, mix it with softened butter, roll it or make butter balls and freeze it.)
Hope you try the recipes and love them as much as I do! See the video here: http://www.kktv.com/savagekitchen