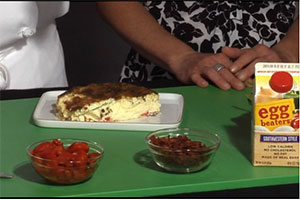 Today Executive Chef Scott Savage (from The Cliff House at Pikes Peak) and I make a fabulous frittata filled with crispy prosciutto, goat cheese, spinach and roasted red peppers on KKTV 11 News. Chef uses Southwestern Style Egg Beaters in this recipe (20 calories per serving, zero fat and cholesterol and gluten-free), which is not only healthy but super easy since it's already seasoned and you can simply pour it into the pan. This is one of those recipes you can make ahead and custom make with your favorite ingredients or any veggies you might already have on hand. It's a great dish for breakfast, lunch, brunch or dinner. And once again, my fabulous top is from Discover Goodwill (White House Black Market that was priced at $2.99 but half off that day so it was only $1.50!) If you can't find prosciutto (dry-cured ham that's thinly sliced), you can use ham or bacon. Of course you can leave out the meat totally and just add veggies if you prefer.
http://www.kktv.com/savagekitchen
My friend and 719Woman fashion contributor, Ashley, helped me whip up our own version of a frittata that we filled with Swiss cheese, roasted red peppers and spinach. Chef's version is quicker than mine since he uses the Egg Beaters, while my version, which takes a bit longer to whip up is less expensive. If you don't like the vegetables or cheese we use, simply swap the same amounts for what you do like. Super easy, quick, inexpensive and delicious!
This is also a perfect dish to make for a bridal or baby shower!
http://www.719woman.com/featured-on-homepage-top/frittata-with-spinach-roasted-red-peppers-and-swiss-10-or-less-meal/