When I first saw this Anti-Aging Merlot Facial, I thought, "what a waste of wine!" But then I thought, "hmmm, anti-aging?" And then I read the recipe only calls for 3 tablespoons of Merlot or other red wine and thought, "What a great way to use some leftover wine!" And then I thought, "This would be great to try while soaking in the tub…an anti-aging facial WHILE enjoying a glass!"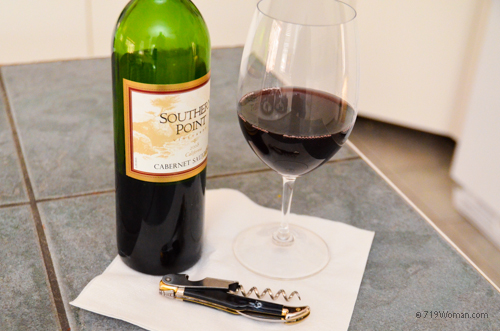 Grapes, especially their skins, are rich in resveratrol, an antioxidant known to be one of nature's top age-fighters. It works by repelling free radicals, molecules that damage your skin, says Lisa Vela, lead aesthetician at New York's chic AmorePacific Spa. I whipped up this super easy facial, soaked in the tub, enjoyed a glass of wine (with some scented candles) and it was a glorious evening! My face felt moist and looked dewy….loved it!
"A facial penetrates your skin to directly deliver key antioxidants," Vela says. Once absorbed, these natural anti-agers go to work repairing damage and protecting your skin against pollution and the sun's rays, leaving it smoother and with fewer fine lines. Any red wine will do, and making your own spa-inspired masque is easy. (And inexpensive)
This facial recipe includes honey, which is a gentle, effective, all-natual skin cleanser (especially good for sensitive skin). Its mild acids gently exfoliate, while its humectant properties hold water to your skin, keeping it moist. It's also naturally antibacterial and aids in the wound-healing process. The third ingredient is plain Greek yogurt, which contains lactose, vitamin B, calcium and potassium, all of which contain healing properties for healthier skin. Greek yogurt soothes sunburned skin and is a great moisturizing mask ingredient.
Anti-Aging Merlot Facial….Firms Your Skin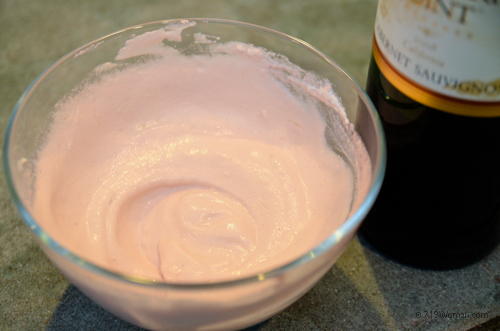 What You Need:
Damp washcloth
3 tablespoons Merlot or other red wine
1 tablespoon honey
1/2 cup plain Greek yogurt
Start by Combining wine, honey and yogurt in a small bowl. Mix well, then set aside. Heat a damp washcloth in the microwave until it's comfortably warm. Lay back and drape the cloth across your face for five minutes to open up your pores, then set aside. Smooth a thin layer of the masque over your skin using slow, circular motions. Relax for 15 minutes while the masque penetrates your skin, then rinse and pat dry. Your skin will feel fabulous!
Because of red wine's extra-long aging period, it's loaded with more rejuvenating resveratrol than white wine.
Here's a few inexpensive reds (I got my pricing from www.cheersliquormart.com )
All prices are for 750 ml bottles…
Apothic Red $9.69 – This is a blend of Syrah, Zinfandel, and Merlot with sweet flavors of ripe raspberry, chocolate, maraschino cherry and boysenberry syrup, with a dry finish. (This is one of our personal favorites!)
Barefoot Merlot $6.99 – Aromas of homemade blueberry pie leads to a dry but berry-rich attack of cherries, blueberries, raspberries and dark chocolate.
Big House Red $9.69 – Made from a mix of 10 red grape varieties, with a subtle berry aroma with chocolate, smoke, and earthy undertones.
ChocolatRouge Dark Red $9.69 – Full bodied blend of premium red wine and dark chocolate flavors, reminiscent of black cherries with hints of dark chocolate.
McManis Petite Sirah $9.99 (another personal favorite) – Abundance of ripe black fruits like blackberry and boysenberry with rich creamy caramel and maple syrup scents…savory and luscious.
2010 Ravenswood Vinters Blend Petite Sirah $6.99 – Robust aroma of jammy dark fruit, spice and vanilla, which continues when tasting, along with lots of spice and oaky notes.
You know, a couple of months ago, the news had lots of stories on the health benefits of drinking red wine which include slowing aging, cutting your cancer risk and keeping your joints healthy. During the last two weeks I've seen and read articles saying new studies show red wine is actually not healthy for you. Studies (on almost everything) can vary depending on who's doing the study and who's in the study group. You should always discuss new changes to your diet (especially if you have any health problems) with your doctor if you're unsure.
**If you have sensitive skin, you should test the red wine masque on your inner arm before using it on your face. A simple mask of honey and yogurt can also be used, and is good for sensitive skin.